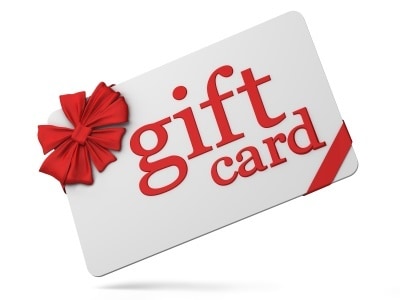 The Gift Card Buyer that Greater Phoenix Trusts!
When we're in desperate times of financial need, we often are unsure which direction to turn.  We're surrounded by valuables in this day and age, laptops, cell phones, even expensive televisions, but we can't do without these, so surely there has to be another way.  Here at Phoenix Pawn and Gold, we're here to tell you there is another way: make us your gift card buyer.
What we forgot is that we have many things just sitting around our homes that are as good as cold, hard cash.  Gift cards have become the number one most bought gift in all the of the United States in just the last decade.  It seems that no matter the holiday, we end up being given more gift cards than we even know what to do with.  We don't even have enough time from one holiday to another to spend the hundreds of dollars of gift cards that we're constantly given, so when we need fast cash, what're we to do?  Make us your gift card buyer, that's what you do!  We can turn your unspent gift cards into fast cash in just a mere minutes.
So How Does Gift Card Buying Work?
The process of buying your gift cards is a very quick, and very simple one.  Before we jump into that, though, a warning: on all gift cards, there's a small grey area that conceals a PIN, which stands for Personal Identification number, similar to what a debit card has.  Every gift card has its own, unique PIN, that is used to verify the card when it is being spent online.  Otherwise, someone could just write down the number of your gift card and spend it as soon as you activated it.  So, if you'd like us to be your gift card buyer, please don't scratch off that PIN until you've brought it into our pawn shop.
Now, the process itself only takes a matter of five minutes, if that.  Once you visit our pawn shop with your gift card, one of our lovely ladies will take it from you and either check online, or make a call to verify the balance on the card.  Once the balance is verified, we will make you a cash offer on the spot for your gift card, and when you accept, we'll simply collect a few signatures from you and send you on your way with fast cash.
Phoenix Pawn and Gold, as the number one pawn shop in town, has been serving the Greater Phoenix area, Tempe, Scottsdale and Glendale for over a decade, and is always doing the most to give its customers the most cash for their gift cards.
Examples of Gift Cards that we buy as the Gift Card Buyer Phoenix Loves!
[Best_Wordpress_Gallery id="6" gal_title="Buy Gift Cards"]