The Gold, Silver, and Platinum Bullion Buyer Phoenix locals turn to: Phoenix Pawn and Gold!
If you are looking for a place to turn your bullion into to cold, hard cash, then Phoenix Pawn and Gold is the place for you! We accept all types of bullion. Whether it's in the form of Bars, Coins, etc., we will provide money for it. We offer different payouts, such as outright cash payments or cash loans. If you want to get the most cash for your bullion, we recommend getting our pawn loans. So if you need a Bullion Buyer Phoenix Pawn and Gold will fill in that role for you today! 
People love precious metals such as silver and gold as it used to be what backed our federal currency.  After the Great Depression, they were a safeguard for cash, in case our flat currency became nothing but a piece of paper.  These precious metal bullions continue to have more stability than other investments when it comes to the stock market.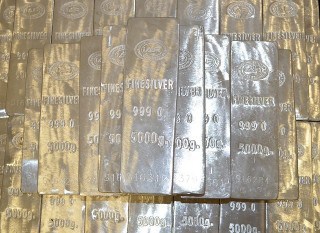 Some sample of Silver Bullion values and pricing from us.
We take all kinds of silver bullion including:
1 ounce to 1,000 ounce Silver Bullion bars
We take most minted stamped silver bullion bars including Engelhard, Johnson Matthey, Pan American, Pamp Suisse, Sunshine and many others.  We also accept different types of numismatic silver coins along with as:
1 Ounce Silver Rounds
Canadian Silver Maple Leaf Coins
US Silver American Eagle Coins
US Silver Buffalo Coins
Australian Silver Bullion Coins
90% Silver Bags
Platinum Examples from THE Platinum Bullion Buyer Phoenix Store!
There are different platinum coins and bars that Phoenix Pawn and Gold will buy or sell including but not limited to the following:
The Platinum American Eagle Coin come in 4 different sizes and face values:
$100 face value contains 1 ounce of pure platinum.
$50 face value contains 1/2th ounce of pure platinum.
$25 face value contains 1/4th ounce of pure platinum.
$10 face value contains 1/10th ounce of pure platinum.
The Canadian Platinum Maple Leaf come in 4 different sizes and face values:
$50 face value contains 1 ounce of pure platinum.
$20 face value contains 1/2th ounce of pure platinum.
$10 face value contains 1/4th ounce of pure platinum.
$5 face value contains 1/10th ounce of pure platinum.
$1 face value contains 1/20th ounce of pure platinum