Gold Loans Put Cash In Your Hands
Gold is a one of a kind precious metal and element, with multi-faceted attributes.  This precious metal is also one of the most resistant to corrosion.  In addition, gold is also the most pliable metal.  Making it viable to be melted into gold bars, flattened as thin as paper or spun into wire. You know what else it can do?  It can be the collateral to get cash from gold loans Phoenix residents!  Bring in your gold jewelry, gold coins, gold ingots or gold watches for a pawn loan today!  Phoenix Pawn and Gold offers professional appraisals and the most cash possible for a 90-day short term loan.
The different forms of gold we accept to secure a pawn loan:
Gold Jewelry (Necklaces, Bracelets, Rings, Pendants, Brooches, Earrings, Tiaras, etc.,)

New / Name Brands
Antique / Estate / Heirlooms

Watches / Time Pieces
Nuggets / Ingots / Bullion

Why Our Gold Loans Offer the Best Cash Offers
Gold has always been sought, even before it was tied to any relevance of currency.  The Western Civilization used to use the "gold standard" that backed our flat currency.  Although, it was abandoned temporarily, during the depression, and then permanently in 1961.  Therefore, the value of gold does not fluctuate to extremes based on our economy or to the degree that the trading markets can.  In the end, gold is unsurpassed in its sustainability and is the perfect collateral for a secured loan.
Phoenix Pawn and Gold has been a buyer, seller and lender of gold for over a decade.  In addition, we are an experienced and skilled team, here to help!  Above all, our staff is certified and equipped to give accurate appraisals on your gold.
Our Appraisals for Gold Loans
When you bring in your gold jewelry for an appraisal on a gold loan, you will be impressed how little time it takes!  First, we will examine the gold jewelry and its overall exterior condition, while also locating the "hidden stamp".  The stamp is found in an inconspicuous place on the item, denoting the "karat", aka the percentage of the gold's purity.  Looking at the chart below, clarifies the significance of gold's ratio of purity:
Testing Gold
Following the stamp as a guide, we test the gold to verify its purity, depending on what form it comes in.  For gold jewelry, gold watches and gold accessories, we use an acid test kit.  We slightly rub the gold against a touchstone, so we have a sample to test.  However, this in no way harms or affects the gold's appearance.  This sample allows us to test with varying strengths of acid to validate the purity of the gold.
For gold coins, gold ingots and any bulk form of gold, we have the Sigma Metalytics tester.  This sends electromagnetic waves through the gold, analyzing the purity.  This amazing technology allows you to test precious metals without removing it from its packaging (like gold coins).
Our Calculated Cash Offer On A Gold Loan
Once the gold is inspected, tested and weighed we refer to the "Spot Price", which is the selling/buying price of gold on that day and time.  Gold is more stable than the stock market or economy, but its price does fluctuate a bit when trading is open.
While our knowledge and skills are the base of being the best cash to loan offers, that's just the start.  Phoenix Pawn and Gold offers 60% – 70% of the Spot Price for our secured loans.  This far exceeds our competition, who pay on average only 30% – 45% of the Spot Price.  Most importantly, we understand that many people have fallen into debt and we truly want to help!
Seal the Deal on Your Gold Loan
Our valuation of your gold is a complimentary service we offer and does not obligate you to accept our offer.  We understand and respect if you want to check our competitor's appraisal and offers.  However, we are confident that you will return for our short-term loan offer.
Once you accept Phoenix Pawn and Gold's cash loan offer, the rest is easy.  We will need a valid and current ID and a few signatures to complete the paperwork.  In the end, we will put the cash in your hand and secure your gold in our locked vault.
*By clicking on the bottom right to connect to our Live-Chat an associate can start the process before you arrive at our store!
**Or ask us any questions via text at (602)641-4666 and receive a response quickly!
 Pawn Loan Terms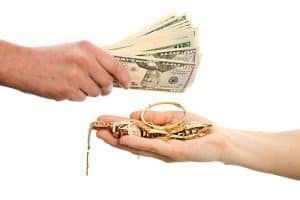 All pawn loans from Phoenix Pawn and Gold are for 90 days.  We will hand you back your gold when the loan is paid in full.  So consequently, within any time of the 90 days you can pay off the loan.  Whether you pay it in one lump sum, or in increments.  Because it is completely up to you and what you can afford.
Therefore, if the loan is paid in full prior to the 90 days, we will pro-rate the interest to the day of remaining principal.  At the end of 90 days you are unable to pay off the balance, we can work with you.  By paying the interest to date, we can extend your pawn loan for another 90 days.  In addition, this can be done as many times as you need, as long as the interest is paid.  Moreover, you can always opt to give us the gold to end the loan if need be.
Phoenix Pawn and Gold is here to offer options to ease financial worries.  Whether you want to sell or pawn your valuables, our cash offers can't be beat!