Pawn Air Tools For 90 Day Cash Loans
The advantage of having air tools and an air compressor are many and hard to deny.  That is why manufacturing, automotive, and the aerospace industries rely on them. For instance, they have a higher power-to-weight ratio and are safer to use than electric powered tools.  In addition, they're easily maintained and have multiple industrial uses.  Therefore, if you have pneumatic tools in your garage, it is not a viable option to sell them. Even if you are seriously needing some cash fast!  Although, they can provide you with collateral power when you pawn air tools at Phoenix Pawn & Gold.  Our pawn shop offers the most cash possible on secured loans to get the cash you need today.  Most importantly, you can have the cash you need now, satisfy the loan and have your tools back in 90 days or less!
Assessments Lead to Cash When You Pawn Air Tools!
All of our pawn loans are based on our valuations of your tools and valuable items brought into our location.  Our assessments of your air tools are free of charge and are based upon the following factors:
The exterior condition of each tool or compressor..
Whether the tools have all of their accessories and attachments.
How well the air tool functions when powered up and tested.
The current market value of that particular brand and model of pneumatic tool.
Tips to increase your cash offer:
Bring in your items in their best possible condition.
In addition, have your tools organized with all of their accessories and parts they are sold with.
Bring along any accessories you bought separately for your air tools and/or air compressor.
Lastly, if you still have the sales receipt, and/or the original box they came in, bring them with you as well.
If our offer is accepted, we will need your valid and current Arizona Driver's License and a few signatures to complete the paperwork.  After that, we count out our offer in cash and hand it directly to you.
Brands of Pneumatic Tools We See Most:
The following list is of the brands we see most come in to our location to pawn or sell: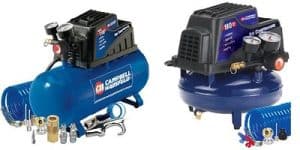 *Click on the bottom right of your screen and connect with an assistant via live-chat.  Because they will be able to answer any questions you have, and begin the process on-line.  Therefore, saving you time before you even arrive at our pawn shop.  Remember to mention to our associate when you arrive at Phoenix Pawn & Gold.
When You Pawn Air Tools for Cash Loans
All pawn loans are for a total of 90 days.  At Phoenix Pawn & Gold, once the pawn loan is finalized with handing you the offer in cash, your tools are kept safe and secure in our locked storage facility.  The same day your loan is satisfied, we will return your tools and/or compressor to you in the same condition you brought then in.
You are more than welcome to pay the loan in full at any time during the 90 days.  Although, if you come in and satisfy the loan prior to the 60th day, we will deduct a redemption discount from the total.  Therefore keeping more cash in your pocket when you retrieve your air tools to take them back home.
However, if you need more time, we can work with you.  With paying only the interest accrued to date, we can rewrite the loan for another 90 days to give you additional time.