Sell Apple iPad
While Apple may have been the engineers of the first personal use electronic tablet in the world, the world of used tablets is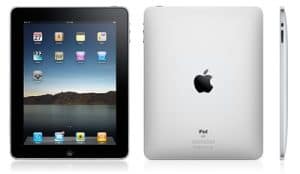 immense and probably encompasses a multi-billion dollar industry at this point.  Despite the wide array of choice available to anyone in the market for a tablet, the Apple iPad is still seen as a beacon of quality and still one of the most desired and widely used tablets in the world.  Their price certainly reflects that with the upper end larger Apple iPads; still holding a price tag near a thousand dollars.  One way or another, if you've upgraded, switched tablets, or maybe were in school and given an iPad and need cash, sell Apple iPads for cash at Phoenix Pawn and Gold.  All iPads in Glendale, Phoenix, and Tempe are good for cash seven days a week at our Phoenix pawn shop.
How to Get Cash for Your Apple iPad
The process all begins at our Phoenix pawn shop.  Bring your used Apple iPad down to our store, and one of our associates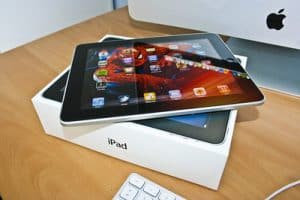 will begin the appraisal by asking you whether you'd like a loan or just to outright sell and then will begin a few basic tests to ensure it's in full operation.  Most importantly, you must, MUST bring a charger for your iPad.  Due to the most recent generations using a different charger than the earlier ones, it's necessary for us to have the appropriate one for your model and generation.
Our inspection, as discussed above, begins with a test of its most basic features.  Ensuring the full function of the touch screen, checking that it connects to a wireless network; other essentials for the operation of an Apple iPad.  Secondly, we assess the condition.  While having a case is meant to protect the device, what it does, more importantly, is protect its condition for when you do eventually resell the tablet.  We've seen many iPads that can look just about brand new when they come out of that case; this contributes greatly to the cash price we're willing to pay.  All of this culminates in us making you a cash offer and with just a few quick signatures, we can send you on your way with cash in hand!
iPad Loans Are Also An Option
Selling your iPad is sometimes not the most desirable way to get your hands on some fast cash. Our employees at Phoenix Pawn and Gold understand this.  We're happy to offer you the same amount of cash for your used tablets in the form of a loan; only if you're not ready to part with your Apple product just yet.  This is available to anyone in Phoenix, Tempe, and Glendale of course.
The tablet loans are for a period of ninety days by default. We allow you to repay the loan plus a bit of interest at any point during this term. We'll happily return your Apple iPad to you.  Alternatively, on the ninetieth day, you're more than welcome to simply pay the interest. We can allow you another ninety total days to repay the loan.  So what're you waiting for, sell or get Apple iPad loans at Phoenix Pawn and Gold seven days a week!