Sell Apple Watch
If you were to ask anyone off the side of the street when we actually stepped into the future, they'd probably look at you with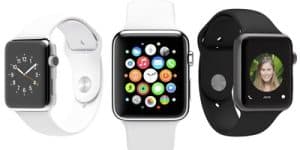 a puzzled face.  It all happened so fast over the last decade that we've all just adjusted but if you really sit and think about it, we're in a true futuristic age of technology.  When smart watches truly became an accepted part of society, we crossed that line.  At Phoenix Pawn and Gold, we're embracing that and with there being multiple generations of Apple Watches around, they're a part of everyday life for a large number of people.  If you're in Phoenix, Glendale, or Tempe and are ready to upgrade or move into a different generation of Apple Watch, you can sell your Apple Watch to Phoenix Pawn and Gold to make your first step in that direction.
Cash for Smartwatches in Minutes
Our professional pawnbrokers on location have been buying and selling these smartwatches since their inception ensuring that we're the experts in town that you should trust. Selling your Apple Watch all starts with the first contact either through using our live chat at the bottom of the screen, or just coming on down to our Phoenix pawn shop in person.  Using the live chat allows us to get you a cash quote before you even come down to Phoenix Pawn and Gold speeding up the process just that little bit quicker. One way or another, our pawnbrokers have to conduct an appraisal of whatever generation of Apple Watch you have before we can get you an offer.
How Do You Start to Sell Apple Watch With Phoenix Pawn?
This all starts with a simple test of all the features a typical smartwatch has to offer.  Its ability to pair between an Apple iPhone, connect to wireless networks, play sounds and notifications and other essentials must still function of course.  Secondly, its cosmetic condition is vital to test as well. It's important to remember that this isn't anything like a phone, it ultimately is a cosmetic accessory that many people wear to complete an outfit. An Apple Watch is both functional and beautiful.  One way or another, we factor all these pieces together to make you a cash offer no matter its condition.
This offer is the highest you'll find in Phoenix, Tempe, and Glendale as we check our smartwatch buying competitors often to ensure we're at the top.  With just a few signatures, we can put cold, hard cash right into your pocket.  No checks and no hassle, Phoenix Pawn and Gold is the only place to sell Apple Watches for cash.
We Also Offer Cash Loans on Apple Watch
All our daily pieces of technology store an enormous amount of sensitive information on them.  It's not as simple as just selling things like instruments or jewelry as there are personal things we're afraid of losing.  At Phoenix Pawn and Gold we understand how integral an Apple Watch can be to someone's life, and would never want to put them in a position financially where they have to part with it.  If you need cash but aren't ready to sell Apple Watch that you own, we'll happily offer a cash loan instead on it.  It allows you access to the same amount of fast cash but comes with a ninety day time period during which you can repay the loan at any time.