Sell Engagement Ring for the Highest Offer of Fast Cash Today!
Sometimes those moments that we think are going to be the most special of our lives just end up the opposite. And that's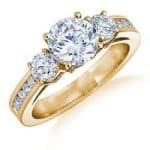 okay, that's life. We live and we learn. The large investment that goes into events like this are hard to recoup; sometimes even the items that bring back these memories are a headache to keep around.
At Phoenix Pawn and Gold, we understand that life can throw twists and turns at you, and if you're trying to recoup money for those diamonds that just didn't go the way they should've, then you can sell your engagement ring to us for cash today. These can be expensive and there's simply no reason that you should have to live with what could've been. Our diamond jewelry buying team is well-renown in the entire Valley of the Sun and will ensure that you get the maximum amount of cash possible for your engagement ring.
Assessing Diamonds the Right Way
Our pawnbrokers are well equipped to verify genuine diamonds, with our advanced in-house tool, that provides accurate results in seconds. After that, our pawnbroker examines the diamond's value, based on the 4 C's of Diamonds, cut, color, clarity and carat.  This ensures that the cash offer they present to our customers are as competitive as they can be.
All-in-all, selling engagement rings relies on offering the most cash possible, based on the quality of the diamond itself. And our pawnbrokers have the experience and tools needed to present the highest offer possible when you sell engagement ring to our store!
*All of our assessments to sell engagement ring is free of charge.  In addition, there is never any obligation to accept our cash offer.  
The Ring's Precious Metal Used Adds To Your Cash Offer Too!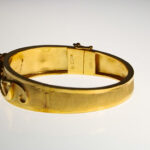 Whether your ring is made from platinum, gold or silver, Phoenix Pawn and Gold will assess the precious metal on its own accord. After both assessments are completed separately, they will be added together to present you with the best cash offer possible!
First, we will find the hidden hallmark on the ring.  This will indicate the karat (purity) of the precious metal used for the piece.  In addition, there can be other markings that are indicators of where and/or who the crafter of the ring was.  This can be very helpful in easily identifying where and who crafted the ring, if it is an antique.
This analysis uses flakes retrieved with the touchstone.  Therefore, your engagement ring is kept safe and sound during the process, and its visual appeal is not affected either.  Furthermore, it a fast and efficient way to verify the hallmark's fineness.  With that said and done, the ring's precious metal weight is measured.  Finally the current spot price will be checked to calculate the offer we will present.
Selling Engagement Rings for Cash
Once we've made you a cash offer and you accept, all we require is a few quick signatures from you.  After that, we'll happily send you on your way with cash in hand.  No matter the number, if it's a few hundred to a few thousand, we'll happily buy your engagement ring seven days of the week.
Phoenix Pawn and Gold is the place to go to sell engagement ring for the most cash possible in mere minutes!