Computer Buyer
Technology is advancing farther and faster than it ever has over the last one hundred years. It almost seems like it's every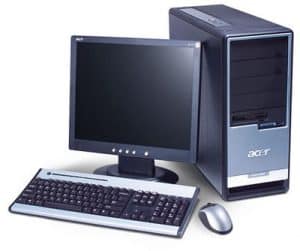 year that some new tech company reinvents the wheel, or better yet reinvents the computer. The wide array of personal computers, laptops, and tablets that are available today is astounding.  It has brought affordable computing and Internet usage to people in all brackets of income.  The unfortunate reality of this advancement is that used technology devalues with every inch that we progress. Holding on to those old used computers, laptops, or tablets after you've upgraded is actually costing you a great deal of money in today's world, and if you're in Phoenix, Tempe, and Glendale, we've got a solution for you. Phoenix Pawn and Gold is happy to be your computer buyer; putting cash in your pocket for those old used computers you have sitting around the house.
As a Computer Buyer We Love the Following Brands…
Lenovo – Dell – Apple – ASUS – Acer – Hewlett-Packard – to name just a few!
Sell Computers for Cash
We've bought and sold thousands of computers over the last year alone. This helped make our computer buying process as simple and as quick as it'll ever be. Most customers are able to put cash in their pocket for their used computers in as little as five minutes; this happens in many cases.  One way or another, if you're looking for cash for your computer, bring your old computers on down to our Phoenix pawn shop.
The appraisal process is the steps that our associates go through to put a value to your used computer.  Despite our speed, we are very thorough in our assessment as we want to ensure all customers are getting a fair and accurate cash price.  The first thing we do is an electronics test to ensure that all features are functioning and operating as they should.
This can include testing USB drives, the CD drive, connecting to the Internet, playing videos/music, and other basic things anyone would expect out of a laptop.  Secondly, its overall condition is assessed.  The quality of the keyboard, looking for scratches on the screens, and judging how used and abused the laptop is is next.
Lastly, and most importantly, we take a look at the national market. This helps us decide your exact model and generation of used computer/laptop and what is its worth. We do this by assessing the online market; hunting for what other comparable models have been bought and sold for over. We go back to the last couple of months, or even days.  This ensures that all customers from Phoenix, Tempe, and even Glendale are getting the maximum amount of cash available for their used computer.
Get Cash But Keep Your Computer
Computers, whether used or not, can hold an immense amount of sensitive and personal information. Even if we've upgraded to a newer and better machine, these items may still be on the device. While at Phoenix Pawn and Gold we take careful steps to ensure the removal of these. Often enough it's just simpler to keep the used laptop yourself and we understand that.
In all situations, we'll happily offer a computer loan instead. Not everyone is comfortable of just selling the computer outright. A loan is better if you'd like to maintain the option to regain possession of your computer. Take a look at our Computer Loans page for more information, but know that this is available to all customers from Phoenix, Tempe, and Glendale seven days a week.