There simply aren't too many things that are more valuable than diamond jewelry.  As a whole, whether it's new or used, all other worldly possessions like electronics, antiques, coins, even gold or silver jewelry doesn't come close to the price a new or used piece of diamond jewelry can fetch.  At Phoenix Pawn and Gold, there's nobody who understands the inherent value of diamond jewelry better.
For those of us in Phoenix, who are in need of a fast cash infusion any day of the week and has some diamond jewelry adorning their jewelry box, we're your one-stop shop to put that cash right into your pocket.  Our diamond jewelry loans are second to none; helping anyone with any kind of diamond jewelry find financial stability in their life once again.  Let's take a look at our pawn loan process. This is how you can turn your jewelry into cash in mere minutes.
The Appraisal – Where Experience Comes Into Play
Between all of our associates, they boast decades of experience handling diamonds.  From diamonds set in jewelry to lose diamonds, to jewelry with other precious metals, we have seen a vast array of designs. There are very few items, despite how unique they might be, that hasn't walked through our doors. Our diamond jewelry loans are done through a process of pawning. This is just a fancy way of saying collateral loan. The appraisal of your diamond jewelry is ultimately what sets the price of your loan; allowing us to give you a cash offer.
There's a universal method for evaluating diamonds. Any jeweler worth his salt will include these ratings with diamond jewelry; especially when it's being sold to customers. These are based on what is commonly known as the Four C's of Diamonds: Cut, Color, Clarity, and Carat. Carat is the most sought-after factor in appraising diamonds. As soon as a diamond loses these certifications, it's up to the buying or loaning party to recreate these characteristics and it takes a special eye.
Phoenix Pawn's Credible Associates
All of our associates; before they even think about performing a diamond jewelry loan, go through a course taught by an instructor. This instructor is certified by the Gemological Institute of America.  You can trust that whoever is behind our counter will be able to accurately assess the value of your diamonds.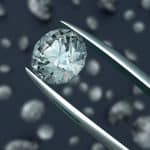 Lastly, what we also ensure to do when appraising diamond jewelry is take into account the other precious metals that the diamonds may be set in.  Diamonds are even more beautiful when coupled with other precious metals; such metals like gold, silver, or platinum.  Every single time, we take these into account and value them separately to maximize the cash loan value we're able to offer. This is what we strive to offer to our customers from Phoenix, Glendale, Tempe and throughout the Valley.
Repaying Diamond Jewelry Loans Is Flexible
Financial stability does not come overnight, and we're well aware of that fact at Phoenix Pawn and Gold.  All jewelry loans last for a period of ninety days. During the period, you can repay the cash value at any time at all with no penalty.  Come the ninetieth day, if you're not ready to repay the full loan amount that's not an issue whatsoever.  Just pay the interest; we'll happily extend your diamond jewelry loan for another ninety days.