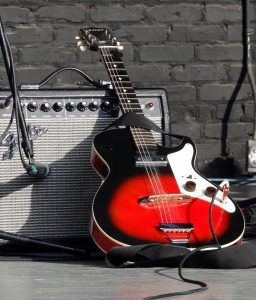 You Can Pawn Guitars for Cash Today!
Gibson, Fender, Electric, Acoustic -- Cash for All!
Pawn Guitars
Guitars have always held value to societies and musicians alike. Learning has never been easier with the advent of the Internet. Without leaving your house, a person in Glendale, Phoenix, or Tempe can now order a guitar, learn how to play it, and even become a master. While certainly, learning the guitar is a cheap hobby to maybe first get into. There are certain guitars out and about that can have values into the thousands.
These guitars were once owned by famous musicians. Or they are simply antiques valuable due to the passage of time. Regardless, their value is unquestionable. It doesn't take a musician to understand this value, however, at Phoenix Pawn and Gold we're aware of the value many guitars have. If you've got a guitar and need cash, come pawn guitars at Phoenix Pawn and Gold. We'll happily offer cash loans on guitars no matter their shape or style. All that matters is its value, and that it be in decent playing condition.
Our Pawn Guitar Loans Are Quick and Easy
From start to finish, we can put cash in your pocket in as little as five minutes. The only thing necessary to get a cash loan from one of our associates is the physical guitar itself. Our pawn loans are a form of collateral loan in which we don't need to worry about credit, employment, income, or anything of the sort in order to get you the money you need. As long as you have a guitar in playing condition, then you can pawn it for cash! Just stop by our Phoenix pawn shop, today.
Repaying Pawn Loans Is Easy
Our Guitar Loans are written for a period of ninety days.  We understand that there's a great deal of variability when it comes to finances. So, you're welcome to come and settle the loan with us at any time during that period with no penalty.  We're happy to be flexible with our patrons when it comes to guitar loans as we understand that there is sometimes sentimentality attached to them.  All we ask is you pay the interest and principal loan balance accrued up to that point, and we'll happily return your guitar to your possession.
If You're Not Ready on Day 90, Don't Worry
Again, at Phoenix Pawn and Gold we believe in being flexible for our customers from Phoenix, Tempe, and Glendale. If at the end of the ninety-day loan term you're not ready financially to reclaim your guitar, then that's fine. We're happy to extend your pawn guitar loan for another ninety-day period with only payment of the interest up to that point.
Instead of having to repay the hundred plus dollars, you can grant yourself another three months time with just payment of a few dozen dollars.  The name of the game to Phoenix Pawn and Gold is ensuring our citizens' financial stability no matter the situation. If you've got a guitar and need a loan, then contact us today. Phoenix Pawn and Gold is open seven days a week and can get you the cash you need in a jiffy; just pawn guitars you own with us.