Watch Loans Phoenix
February 10, 2016 - 3 minutes read
Watch Loans Phoenix
Who knew that the watch on your wrist could get you out of a money jam?! We at Phoenix Pawn and Gold did, with watch loans Phoenix locals come back to! Want to know what's up with such an idea? Read on, and you'll understand a bit better.
What Makes Watch Loans Work?
First, remember that this is a pawn loan at its nature. Like with any of the fine items of value we are willing to make offers on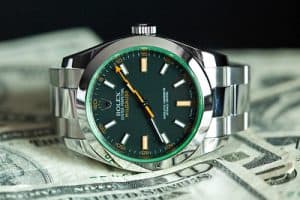 everyday, the watch is a great way to get some cash when in a tight spot. Just come in, show us your timepiece, we show you the cash in moments, should you like our offer first. But also understand that this is a loan. We offer a 90 day grace period for you to pay us back, with the interest included. Should you pay us back before then, we give the watch back and with a smile and we will eagerly await your return.
Should you need more time, simply pay the interest. But be warned: While we DO extend the time you need to pay us back, that also changes the amount necessary to have the loan paid in full. The longer the delay, the higher the repay. Otherwise, there would be no need to pay back at all. That leaves to this option: should you not need the watch anymore, simply contact us of your intentions and we'll simply use the watch you loaned as payment for the loan. We won't come chasing after you like most banks do.
What Types of Watches Do You Look For?
Naturally, we look for many different types of watches, such as Rolex, Breitling, and more. But bare in mind that less well-known watches may not net much cash if at all, so don't expect a 'Dora the Explorer' watch to get you anything other than a 'How cute!' unless it's diamond studded (In which case we recommend a diamond loan instead), to name an example.
As you can see, opportunities like these are commonplace at Phoenix Pawn and Gold. We continue to provide options and quality service to all of our Phoenix, Tempe, Scottsdale, and Chandler customers and beyond. We continue to provide this quality of service for over one decade. It's a safe bet to say that when you need watch loans Phoenix Pawn and Gold can be the source of income you need!
Tags:
Breitling
,
Chandler
,
Loans
,
pawn loan
,
Phoenix
,
Phoenix Pawn and Gold
,
Rolex
,
Scottsdale
,
Tempe
,
timepiece
,
Watch Loans